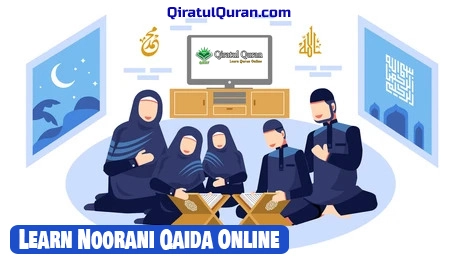 What is Noorani Qaida ? & Why we should start from Qaida
Learn Noorani Qaida online which we will start the Quran from the Basic Level it's mean we will start with Scratching, Because Some kids did not know anything about, what is Tajweed, What is Qaida, How we will Read Alphabets Because kids are in the process of learning so, in tajweed Rules, we will start from zero, and we will inform our students, how He understands the rules with a really easy method, our teaching method is really helpful for them to understand Arabic Alphabets & tajweed rules & how we will apply the rules in Arabic words, how much we will stretch when we will stretch the word & when not, so After all of this, it will help a lot for students to know Tajweed rules.
Why Learn Noorani Qaida Online?
There are many reasons why students choose to learn Noorani Qaida online. One of the biggest advantages of online learning is that it is convenient and flexible. Students can access their lessons from anywhere in the world and at any time that is convenient for them. Online learning also eliminates the need for commuting to a physical location, making it a cost-effective option for students on a budget.
Another advantage of online learning is the ability to progress at your own pace. This is especially important for students who may need extra time to master certain concepts or who may have a busy schedule. With online learning, students can take their time and ensure they fully understand each concept before moving on to the next lesson.
How to Find the Right Noorani Qaida Online Course?
There are many online courses available in Qiratul Quran for learn Noorani Qaida Online. It is not difficult to know which one is right for you. Here are some key factors to consider when choosing to Learn Noorani Qaida online classes at home:
Course Content: Ensure that the course covers all the essential concepts in the Noorani Qaida and provides comprehensive lessons on the Arabic alphabet.
Instructor Qualifications: Look for an instructor who is a qualified and experienced teacher of the Arabic language. This will ensure that you receive the best possible education and guidance throughout your course.
Interactive Features: Choose a course that offers interactive features such as quizzes, games, and forums. These features will help you to stay engaged and motivated during your lessons.
Price: Consider the cost of the course and whether it fits within your budget. While it is important to find a course that provides value for money, it is also important to choose a course that is of high quality.
How to Make the Most of Your Noorani Qaida Online Course?
To make the most of your Noorani Qaida online course, it is important to have a consistent study schedule and to stay motivated. Here are some tips in Qiratul Quran to help you stay on track:
Set achievable goals: Decide on a specific goal for each lesson and set aside a set amount of time each day to study.
Create a study environment: Find a quiet and comfortable space to study in and ensure that you have all the materials you need to complete your lessons.
Stay engaged: Participate in interactive activities and forums, and ask your instructor for help if you are having difficulty with any concepts.
Practice, practice, practice: The key to mastering the Arabic alphabet is consistent practice. Make sure to practice writing and reading the letters as often as you can.
What Method do we Use For Kids to Learn Noorani Qaida online?
We will teach Quranic Qaida to Learn Noorani Qaida Online. Students can learn all Tajweed rules, there are any specific books for tajweed because we never preferred books on tajweed that are hard for the students we design our Course Work with a really easy method that is helpful for the students Especially for kids.
Qiratul Quran Online Noorani Qaida Courses
At our online academy, we offer a range of Noorani Qaida courses to suit the needs of students of all levels. Our courses include:
Beginner's Noorani Qaida: This course is designed for students who are new to learning the Quran and provides a basic understanding of Noorani Qaida and Tajweed.

Intermediate Noorani Qaida: This course is designed for students who have completed the Beginner's course and want to further their understanding of Noorani Qaida and Tajweed.

Advanced Noorani Qaida: This course is designed for students who have completed the Intermediate course and want to master Noorani Qaida and Tajweed.
In each of our courses, we provide personalized instruction and guidance to help you learn at your own pace and on your own schedule.
What Are Arabic Alphabets & How We Will Understand Their Signs to Learn Noorani Qaida?
Firstly We Will Start with a Singular Letter in Alphabetical Order it's mean a Singular letter in which the letter has not any sign (Empty from the Signs) & After That, we will discuss Signs.
What are Harakat (Signs) You Must Know to Learn Noorani Qaida online

?
The Signs follow the letter to understand the sound of the letter with its Signs For example in Quranic Qaida we will know about the type of Signs that are helpful for the student to Read the Quran Correctly The Signs are as follows:
1- Consonants ( Sakin Words)
2- Short Vowels (Harakat (Signs) )
3- Long Vowels (Maddah Letters)
4- Tanween Signs
5- Soft Vowels (Leen Letter)
6- Noon Sakin & Tanween
7- Meem Sakin
8- Rules of Raa
9- Rules of Lam
10- Noon e Qutni
11- Waqf (Stopping Signs)
How We Will Teach Tajweed to Learn Noorani Qaida Online?
Our Teacher starts the tajweed lesson with the pronunciation of the Alphabet & in which our teacher check students' IQ level & Teaches the students according to their willingness & getting power so in this way students can understand tajweed rules step by step with the Lessons Information, so in Qiratul Quran Teacher know how to teach a student with really best& friendly environment, so what are you waiting for Register Today and Take Your Free Trial class.
Enroll in our Online Noorani Qaida

Courses Today
If you are interested to learn Noorani Qaida online, our online academy is the perfect place for you. With our experienced teachers, personalized instruction, and comprehensive courses, we can help you master Noorani Qaida and Tajweed. Enroll in our courses today and start your journey toward understanding the Quran.
Conclusion:
Learning Noorani Qaida online is a convenient and flexible way to master the Arabic alphabet. With the right course, qualified instructor, and consistent study habits, anyone can become an expert in the Arabic language. Start your journey with Qiratul Quran to mastering the Arabic language today and we are choosing the right Noorani Qaida online course for you.
FAQs:
Q. Is it necessary to learn Noorani Qaida before learning the Quran?
A. Yes, Noorani Qaida is a fundamental book for those who want to learn the Quran. It teaches the pronunciation and recognition of Arabic letters and words, which is essential for reading the Quran.
Q. How long does it take to learn Noorani Qaida?
A. The duration of learning Noorani Qaida depends on the individual's learning speed and dedication. However, on average, it takes around 3-6 months to complete the book.
Q. Do I need to know Arabic to learn Noorani Qaida?
A. No, you do not need to know Arabic to learn Noorani Qaida. The book is designed for beginners and teaches Arabic pronunciation and recognition from scratch.