The Holy Quran is the foundational text of Islam and should be central to the upbringing of every Muslim child. Memorizing and understanding the Quran from an early age instills the teachings of Islam, improves Arabic skills, and provides solace and guidance through life's journey. Qiratul Quran Fortunately, parents today have excellent options for Quran education for kids through online Quran courses.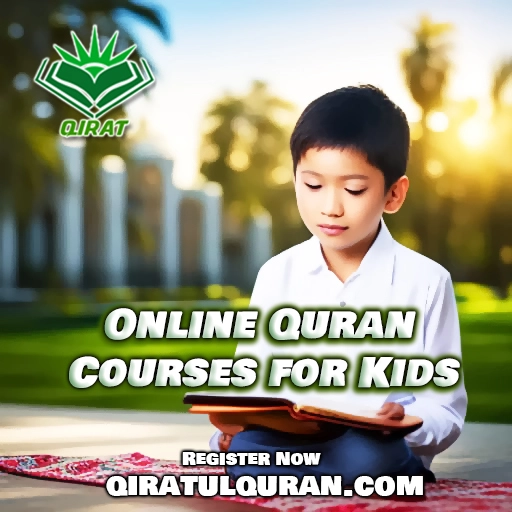 Benefits of Online Quran Courses for Children
Online Quran classes offer significant advantages over traditional in-person instruction for kids:
Convenience
With on-demand video lessons and scheduled live classes, online Quran courses fit around busy family schedules. Kids can access lessons anywhere with an internet connection. This flexibility helps children maintain regular Quran learning despite hectic extracurricular and travel schedules.
Engaging Multimedia Resources
Online Quran courses utilize engaging, professionally produced video lessons, games, activities, and quizzes. This multimedia approach accommodates different learning styles and keeps kids interested in the material.
Customized Instruction
The best online Quran programs place kids in small classes based on skill level. Teachers can provide personalized feedback and support. One-on-one tutoring is also available. This customized approach ensures kids get the instruction they need to excel.
Global Perspective
Kids can learn alongside others from around the world in online classes. This fosters an inclusive, multicultural environment and global outlook.
Key Features of Quality Online Quran Classes
Parents should look for these features when selecting an online Quran program:
Qualified Teachers
Programs should have teachers who are native Arabic speakers with experience teaching the Quran to children. Their instructional approach should be positive, engaging, and customized to each child's needs.
Structured Curriculum
A well-designed, leveled curriculum establishes strong Quran recitation, memorization, and comprehension skills. It should cover essential Islamic principles too.
Interactive Learning Tools
Games, activities, digital flashcards, and quizzes reinforce and test learning in a fun way. Built-in rewards keep kids motivated.
Progress Tracking
The best programs provide dashboards for parents to monitor their child's participation, achievement, and areas for improvement. Reports identify knowledge gaps to address.
Safe Learning Environment
Reputable programs have child safety measures like student-teacher messaging limits. Students must also have parental permission to join classes.
Age-Specific Considerations for Online Quran Lessons
The right online Quran course differs based on a child's age and skills:
Preschool: Ages 4-5
Focus on letter recognition, basic Arabic vocabulary, short surah memorization, and Quran stories with moral lessons. Engage preschoolers with songs, animated videos, and fun activities.
Elementary School: Ages 6-10
Build strong Quran recitation, pronunciation, and memorization skills. Gradually introduce major concepts and themes with activities and discussions. Monitor comprehension and provide extra help where needed.
Middle School: Ages 11-13
Expand memorization, interpretation, and application of Quran teachings. Foster discussions on Islamic principles. Provide support around spiritual changes accompanying puberty. Guide memorization and recitation of longer surahs.
High School: Ages 14-18
Encourage regular self-study and review. Cover advanced exegesis and comparative analysis of major translations. Discuss how Quran teachings apply to teen issues like relationships and responsibilities. Prepare teens to continue Quran study as adults.
Choosing the Best Online Quran Course
The key factors for parents to consider when choosing an online Quran program include:
Teacher Quality: Look at instructor qualifications, teaching approach, and student reviews.
Curriculum Design: Ensure it develops well-rounded Quran skills appropriate for the child's age.
Student Engagement: Interactivity, rewards, and fun activities keep kids eager to learn.
Customization: Kids should be grouped and instructed at the right level to progress.
Safety: Robust child safety measures should be in place for online learning.
Cost: Programs range from free to paid monthly subscriptions. Compare value.
Provide Your Child the Gift of Quran Education
A strong foundation in the teachings of the Holy Quran is one of the greatest gifts parents can provide for their children. Online Quran courses make this gift conveniently available even to busy families. The interactive, multimedia format engages kids in establishing proficiency and a lifelong appreciation of the divine wisdom in the Quran.
Online Quran classes for kids in QiratulQuran.Com Best Quran School & Institute
online Quran classes for kids offered by QiratulQuran.Com:
QiratulQuran.Com is an established online Quran school that provides customized classes for kids of all ages.

The program focuses on building strong Quran recitation, memorization, comprehension, and application skills.

Quran instructors are highly qualified native Arabic speakers. They take an engaging and supportive approach to teaching kids.

The curriculum is structured into different class levels, allowing students to progress at the right pace.

Classes use interactive games, activities, flashcards, quizzes, and multimedia lessons to reinforce learning.

Progress dashboards allow parents to track their child's participation, achievement, and areas for improvement.

QiratulQuran.Com emphasizes customization through small group classes based on skill level, one-on-one tutoring, and tailored feedback.

Safety features include parent permission requirements, messaging limits between students and teachers, and monitoring.

The program accommodates different learning styles and schedules through on-demand lessons and flexible live class times.

Affordable monthly subscription plans are available, providing great value for Quran instruction.
Overall, QiratulQuran.Com offers a comprehensive and engaging online Quran learning experience for kids of all ages and skill levels. The customized curriculum and classes make it easy for any child to build a strong foundation in the teachings of the Quran.
Best Online Quran courses for kids in QiratulQuran.com
QiratulQuran.com provides excellent Quran courses tailored specifically for children of all ages. Here are some key reasons why their program is one of the best for kids:
QiratulQuran.com Offers the Best Online Quran Courses for Kids
QiratulQuran.com provides engaging, effective online Quran courses tailored to children's unique learning needs. Their programs develop strong Quran skills and appreciation of Islamic principles.
Exceptional Curriculum and Teaching Approach
Experienced Instructors – Teachers are native Arabic speakers specially trained to engage children in Quran learning.
Structured Courses – Classes are organized by skill level, covering everything from alphabet recognition to advanced recitation.
Engaging Format – Lessons use games, activities, animations, and quizzes to keep kids interested and having fun.
Customized Learning Experience
Small Group Classes – Students are grouped by skill level for focused instruction.
One-on-One Tutoring – Provides personalized attention to address individual needs.
Progress Tracking – Dashboards keep parents updated on their child's achievement and lesson plans.
Convenience and Safety of Online Platforms
Flexible Scheduling – On-demand and live classes accommodate busy schedules.
Accessibility – Children can participate from anywhere with an internet connection.
Safety Measures – Robust screening, monitoring, and permissions keep kids safe.
Affordability of Subscription Plans
Outstanding Value – Comprehensive courses cost less than in-person instruction.
With its tailored approach and stellar curriculum, QiratulQuran.com offers the best Quran learning experience for Muslim children today.
Qiratul Quran Branded Courses
Related Courses
Our Best Faculty