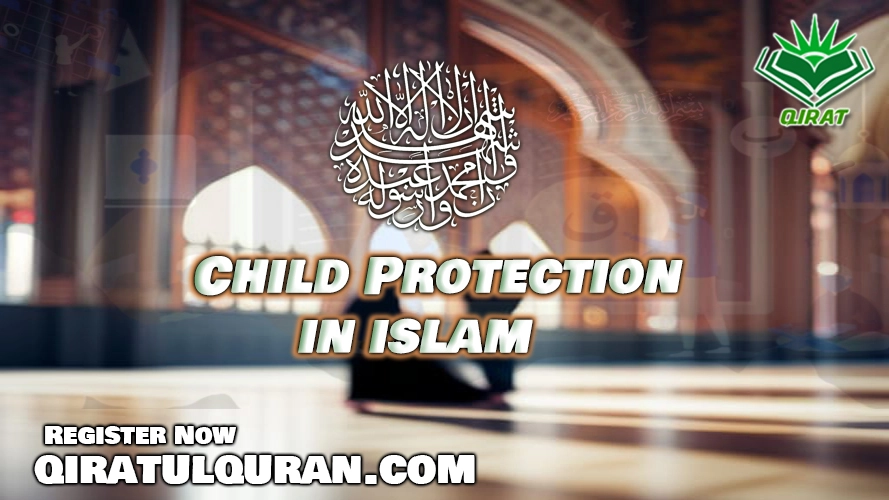 Child Rights in Islam
Child Protection in Islam, children have a very high status and are seen as precious gifts from God (Allah). The Quran and Sunnah emphasize the importance of treating children with gentleness, respect, and equity. Qiratul Quran will tell you about the Children's rights are safeguarded through various teachings and practices in Islam.
Some of the key child rights upheld in Child Protection in Islam include:
Right to Life and Dignity
Islam prohibits infanticide and regards it as a major sin. The Quran condemns the pre-Islamic practice of burying infant girls alive (Quran 81:8-9). Children's lives are sacred regardless of gender or disability. The Prophet Muhammad said mercy should be shown to all children. Therefore, Child Protection in Islam is important.
Right to Proper Upbringing
Parents are obligated to provide for a child's basic needs like food, clothing, shelter, education, and healthcare. Children must be treated equally regardless of gender. The Prophet emphasized the equal treatment of sons and daughters in gifts and favors. To complete the right of Child Protection in Islam.
Parents should raise children in a healthy environment and protect them from abuse or exploitation. The Prophet said parents who do not care for their children appropriately will be held accountable on the Day of Judgment.
Right to Identity and Lineage
Children have a right to a name and recognized lineage. Islams prohibits anonymity in donor conception or surrogacy arrangements to protect children's identity rights. Adopted children have a right to know their biological lineage.
Right to Education
The Prophet declared education as compulsory for all Muslim children, both boys, and girls. Parents are responsible for educating their children in both religious and worldly knowledge.
Right to Healthcare and Welfare
Children have a right to good healthcare. The Prophet advised maintaining children's health through good nutrition, hygiene, and medicine. Islamic states are expected to provide support services and benefits for orphans, foundlings, and vulnerable children if families cannot fulfill a child's basic needs.
Right to Parental Love and Care
The Quran describes parental love for children as a great mercy of God (Quran 30:21). Parents should raise children with love, affection, and wisdom. Children have a right to good parenting, from both mother and father.
Right to Play, Recreation, and Leisure
Children should have opportunities for appropriate entertainment, play, and leisure. The Prophet demonstrated love for children by engaging in play with them and giving them affection.
Right to Freedom from Abuse and Exploitation
Children should not be subject to harsh punishments, abuse, violence, or exploitation. The Prophet emphasized the gentle treatment of children and avoiding harm or suffering to them.
By upholding these rights, Islam aims to protect children's lives and enable them to develop their potential fully. The fulfillment of children's rights is considered a religious obligation and virtue in Islam.
Adopted Child Rights in Islam
Although Islamic law does not recognize legal adoption, it does allow for guardianship of orphaned or abandoned children through the principles of kafala and foster care. Under kafala, a family takes care of a child's maintenance and education, but the child retains their original identity and does not change lineages.
The basic rights of children under kafala include:
Right to retain biological lineage. The adopted child's original name and paternity are unchanged.
Right to property and inheritance. The adopted child has a right to property and inheritance from their biological parents, not adoptive parents.
Right to mahram restrictions. Adopted children must follow the same mahram restrictions (e.g. modesty, marriage) as biological children.
Right to the breastfeeding relationship. A breastfeeding foster mother establishes mahram relations with the child.
Right to kind treatment. Adoptive parents have a duty of benevolence to treat the adopted child justly, similar to their own children.
Right to expenses. The adoptive parents are responsible for providing maintenance for the child.
Right to education and training. Adoptive parents should provide appropriate education and training to equip the child for adulthood.
Right to marriage expenses. The adoptive parents are expected to bear expenses for the child's marriage when they reach adulthood.
Right to property inheritance. If the adoptive parents choose to bequeath some inheritance for the child, they may do so out of kindness but are not obliged.
The Prophet Muhammad was himself an orphan and emphatically urged compassion toward orphans in Muslim society. He said caregivers of orphaned and vulnerable children will be as close to him in Paradise as two fingers of a hand.
Adoption Laws in Islam
There is no formal legal adoption in classical Islamic law. Instead, the principles of kafala and foster care are recognized to care for orphaned or abandoned children.
Kafala allows a family to voluntarily take responsibility for a child's maintenance and education, without changing the child's lineage or inheritance rights.
The child retains their original name and paternity. They remain associated with their biological family.
All rights and duties between the child and biological parents remain intact. The child inherits from biological parents, not foster parents.
The foster parents have the right to discipline and care for the child. The child has no rights of inheritance from the foster parents.
Breastfeeding establishes mahram ties between milk mother and child. Other mahram restrictions must be observed between foster children and family members.
Foster parents have the duty of kind treatment similar to their own children. They cannot abuse or exploit the child.
Foster parents are expected to provide expenses for maintenance, medical needs, education, and future marriage of the child.
Some Muslim countries like Iran and Malaysia have state laws to regulate Islamic adoptions but these are considered innovations by classical jurists.
Muslim countries may also allow the adoption of orphaned children by non-Muslims. But a Muslim child's faith and identity must be protected.
Adoption is only considered if no foster care arrangement within the extended family or community is possible for the child's care.
The primary aim is raising the child in an environment closest to their biological family and origins within the Muslim community.
Is Adoption Allowed in Islam?
Classical Islamic jurisprudence does not allow legal adoption resulting in a change of lineage and inheritance rights.
Instead, the principles of kafala (sponsorship) and foster care are recognized in Islam for orphaned or abandoned children.
Under kafala, a family voluntarily cares for a child, providing maintenance, education, and training without legally adopting them.
The child retains their biological lineage, paternity name, and inheritance rights connected to the original parents and family.
Adoption where a child takes the family name of adoptive parents and inherits from them is not permissible.
However, adopting orphaned or helpless children to provide care and dignity is strongly encouraged in Islam.
The Quran upholds taking care of orphans numerous times. The Prophet Muhammad was himself an orphan and emphasized sponsoring orphans.
Fostering or sponsoring an orphan, providing expenses, and raising them in an Islamic environment is seen as a great virtue and blessing.
But changing or obscuring a child's lineage is prohibited as it denies their identity and rights endowed by God.
Modern Muslim states may allow legal adoption for orphaned Muslim children by non-Muslim families in the absence of Muslim families if identity rights are protected.
Overall, Islam upholds the well-being of orphans and encourages caring for them through kafala rather than completely prohibiting adoption. Taking in orphans is seen as next to belief in God.
Child Protection Laws in the UK
The UK has comprehensive child protection laws and policies to safeguard children from abuse, neglect, and other forms of harm. Some key laws and guidelines include:
Children Act 1989 – Provides a framework for the protection of children at risk in England and Wales. Covers parental responsibility, care proceedings, foster care, etc.
Children Act 2004 – Set up Children's Commissioner role, and introduced a duty on agencies to safeguard and promote the welfare of children.
Children and Social Work Act 2017 – Reforms child protection services, and social work practices. Aims to improve support for vulnerable children.
Working Together to Safeguard Children 2018 – Sets out how agencies and professionals should work together to protect children. Explains safeguarding duties and policies.
Keeping Children Safe in Education 2022 – Statutory guidance for schools and colleges. Details child protection duties, recognizing and reporting abuse.
UN Convention on the Rights of the Child – Ratified by the UK in 1991. Sets standards for protecting children's welfare and human rights.
Online safety laws – Prevent access to child abuse material, and regulate interactions with children through the internet.
Legal penalties for child abuse and neglect – UK laws impose strict criminal penalties for child abuse, exploitation, and neglect by caregivers.
Independent Inquiry into Child Sexual Abuse – Ongoing inquiry investigating institutional failures to protect children from sexual abuse. Aims to learn lessons to improve child protection.
These provide a robust legal foundation for child protection policies and procedures in the UK across sectors like social services, healthcare, education, law enforcement agencies, and the courts.
Child Protection Laws in the USA
Some major federal and state laws for child protection in the USA include:
Child Abuse Prevention and Treatment Act 1974 – Provides federal funding and definitions for identifying and preventing child abuse/neglect. Requires states to have child protection policies to receive grants.
Indian Child Welfare Act 1978 – Promotes keeping Native American children within their tribes and families. Sets standards for placements and terminations of native child custody.
Adoption Assistance and Child Welfare Act 1980 – Requires states to make efforts to prevent the removal of children from families. Promotes reunification or adoption if this fails.
National Child Protection Act 1993 – Established national child abuse registries and background checks for childcare workers.
Victims of Child Abuse Act 1990 – Adds special provisions for child victim testimony. Allows closing courts and use of video technology to protect children testifying in abuse cases.
Adam Walsh Child Protection and Safety Act 2006 – Increased penalties and oversight of sex offenders. Established a national child abuse/neglect registry.
Child Abuse Reporting Laws – Every US state has laws mandating reporting by professionals working with children if child abuse/neglect is suspected. Failure to report can be prosecuted.
State child protection laws and agencies – Vary across states but address common areas of reporting, investigating, and responding to allegations of child maltreatment and abuse.
US child protection laws aim to prevent, identify and appropriately respond to all forms of child abuse and neglect. Reporting and intervention procedures are set up to keep children safe when families cannot or will not.
Child Protection Laws in Australia
Australia has a comprehensive legal framework for child protection including:
National Framework for Protecting Australia's Children 2009–2020 – Sets national agenda and priorities for safeguarding children. Aims for sustained improvements in child well-being and protection.
Australian Human Rights Commission Act 1986 – Establishes the Australian Human Rights Commission which promotes the rights, welfare, and interests of children in Australia.
Family Law Act 1975 – Federal law governing responsibilities regarding children like custody, access, guardianship, and care arrangements. Aims to protect children's best interests.
Child protection legislation in each state/territory – Provides a legal basis for intervention to protect children. Covers mandatory reporting of suspected abuse by professionals.
Charters of Rights for Children in Care – Established in states/territories to protect the rights and improve outcomes for children placed in out-of-home care.
National Office for Child Safety 2018 – Leads development and implementation of national policies/strategies for child protection and prevention of abuse.
National Principles for Child Safe Organisations 2019 – Standards for creating child-safe institutions across sectors like education, healthcare, sports, recreation, arts, and culture.
Criminal offenses for child abuse and exploitation – Various criminal penalties apply for acts like child sexual abuse, grooming, neglect, family violence, and child labor.
Australia continues to strengthen its child protection system across prevention, early intervention, reporting, and therapeutic services to fulfill its commitments to children's safety and wellbeing.
Child Protection Plan
A child protection plan is a formal plan for keeping a child safe from harm or abuse in cases where parents or caregivers are unable or unwilling to protect the child. Key features include:
Created by child protection authorities like child welfare agencies or social services departments in collaboration with the family and other professionals involved with the child.
Made when an ongoing child protection assessment finds significant risks that require active measures.
Records concerns that placed the child at risk of harm or actual harm suffered (physical, sexual, emotional abuse or neglect).
Sets out exact steps the parents and concerned agencies must take to ensure the child's safety and wellbeing.
Measures aimed at improving inadequate parenting and may include counseling, services, supervision, health/education inputs, etc.
Can limit contact between abusing family members & child, or remove a child into foster care if required for safety.
Progress is reviewed regularly until child protection authorities are satisfied risks are removed and parents can meet their child's needs.
If parents fail to comply or make improvements, legal proceedings may be initiated to place a child under state custody.
Aims to strike a balance between keeping the child safe and preserving the family where possible with appropriate support.
Child Protection in Islam plans to try to prevent the recurrence or escalation of abuse/neglect while avoiding out-of-home placement. But the child's interests are paramount if parents do not cooperate.
Child Protection and Safeguarding
Child protection and safeguarding refers to policies, procedures, and measures to:
Protect children from all forms of abuse, neglect, or harm by family, caregivers, or other adults.
Provide safe environments where children can develop and thrive without fear of mistreatment or exploitation.
Key elements include:
Legal frameworks define abuse and mandate reporting by professionals and the public.
Agencies like child protection services investigate suspected abuse and take remedial action.
Support and intervention programs to improve parenting, strengthen families, and prevent the need for removing children.
Training for professionals working with children to recognize and report warning signs.
Safety policies, vetting, and oversight of institutions and services catering to children like schools, sports clubs, residential care facilities, etc.
Services to support children who have experienced maltreatment through counseling, legal aid, healthcare, confidential helplines, etc.
Public education and awareness campaigns on risks, warning signs, and responsibilities regarding child safety.
Upholding children's rights to participation, dignity, and being heard.
Effective Child Protection in Islam requires a coordinated societal response driven by the duty bearers like parents, professionals, and the state to ensure every child's security and well-being.
Quran & Hadith About Child Protection in Islam
The Quran and Hadith emphasize kindness, respect, and care for children:
The Quran condemns harsh or degrading treatment of children: "Do not say to them 'Ugh' or rebuke them harshly." (17:23)
The Prophet (PBUH) said, "Be kind towards children, and treat them gently." (Al-Adab Al-Mufrad)
He advised caregivers: "Each of you is a shepherd and each is responsible for his flock…A man is a guardian of the members of his household." (Bukhari)
He said God will punish those who neglect or abuse children: "All of you are guardians and are responsible for your subjects…The ruler is a guardian and responsible for his subjects; the man is a guardian of his family; the woman is the guardian of her husband's house and children." (Bukhari)
The Quran denounces infanticide as a grave sin: "When the infant girl, buried alive, is questioned about – for what crime was she killed?" (81:8-9)
The Prophet forbade harming others like children through curses or invocation: "Do not invoke curses, nor pray that they are visited with God's wrath, on others." (Muslim)
He sought refuge from child abuse: "I seek refuge with You from laziness, senility, sin, debt and the affliction of children." (Al-Bukhari)
He instructed parents to support children financially: "It is enough sin for a person to neglect those who are for him to support." (Muslim)
The Quran and Hadith establish clear guidance for Child Protection in Islam and for upholding children's dignity, welfare, and development in a caring family environment.
How Should We Protect Our Child According to Islamic Way
Child Protection in Islam and how we should protect them according to Islamic law:
Provide children with good morals and faith – Teach them Quran, prayer, and ethics. Be a good role model.
Give them love and affection – Do not neglect or mistreat them emotionally or physically.
Treat children equally and fairly – Do not favor sons over daughters or some children over others.
Meet their needs – Ensure proper food, clothing, shelter, medical care, and education.
Discipline humanely – Do not hit harshly. Instill values through wisdom and good example.
Respect their dignity – Do not belittle, insult or humiliate them.
Be involved in their lives – Monitor and guide their activities and friends.
Listen to them – Let them express their feelings and opinions. Solve their problems patiently.
Protect their innocence – Keep them from adult issues like drugs, alcohol, and sexuality. Don't place adult burdens.
Pray for their success – Make dua for their worldly and afterlife wellbeing.
Teach rights and duties in Islam – Guide them in fulfilling religious duties at a proper age. Remind of duty to parents.
Prepare them for adulthood – Provide life skills and education for future family and career roles.
Summary About Child Protection in Islam
To complete these rights, Islam aims to protect children's lives and enable them to develop their potential fully. The fulfillment of children's rights is considered a religious obligation and virtue in Islam.
Qiratul Quran Branded Courses
Related Courses
Our Best Faculty
Book Your Class Now for your bright Islamic future. QiratulQuran.Com is more prominent because of Qualified Alazhari Ph.D. DR. teachers. We don't have any teachers with less than a Ph.D. education. Avail of this facility now. Enroll Today Now.