Summer Courses in Egypt
Summer Quran Courses in Egypt: Egypt is a popular destination for studying Arabic and Quran during the summer months. The warm weather, rich Islamic history, and immersive cultural experience make Egypt an ideal place to learn more about the religion and language. There are many institutions but the Qiratul Quran is the best that offer intensive summer programs ranging from 2 weeks to 3 months. These courses cater to different levels, from beginners to advanced students.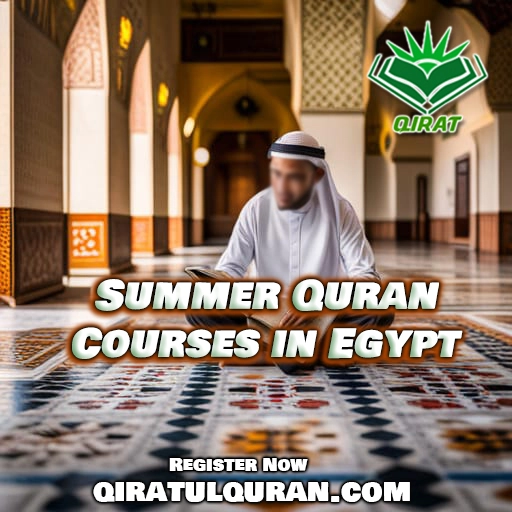 Arabic Summer Program Egypt
Learning Arabic in Egypt during the summer is an amazing opportunity to quickly improve your language skills. The total immersion environment forces you to speak Arabic on a daily basis, accelerating the learning process. There are Arabic summer courses available for all levels. Here are some of the main benefits of joining an Arabic summer program in Egypt & Summer Quran Courses in Egypt:
Small class sizes allow for personalized attention from teachers. Most summer Arabic classes have less than 10 students per teacher. This results in tailored feedback and a customized learning plan.

The variety of Arabic dialects spoken in Egypt provides exposure to real-life Arabic. The Egyptian dialect is widely understood across the Arab world.

Cultural activities and excursions facilitate the practical application of the language. Students can practice speaking Arabic in authentic situations outside the classroom.

Intensive courses condense a year's worth of Arabic into a few weeks. Students have reported gaining multiple proficiency levels in a short time.
Some of the most popular cities for summer Arabic study include Cairo, Alexandria, Luxor, and Aswan. The top institutes provide accommodation with local host families to further immerse students in the language and culture.
Study Arabic in Egypt Scholarship
Studying Arabic in Egypt during the summer can be an expensive endeavor. However, there are excellent scholarship opportunities sponsored by the Egyptian government, American organizations, and individual institutions. Some of the main scholarships for summer Arabic study in Egypt include:
The Critical Language Scholarship (CLS) – This fully funded U.S. State Department program offers American students intensive Arabic study for 8-10 weeks. It covers tuition, accommodation, travel, and living expenses.
AMIDEAST scholarships – AMIDEAST provides several partial scholarships for summer Arabic programs in Egypt. The amount awarded depends on financial need.
Saeed Foundation Arabic Scholarship – This scholarship by the Saeed Foundation provides up to $2800 to U.S undergraduates for summer study at the American University in Cairo.
Private institution financial aid – Many Arabic institutes in Egypt provide financial assistance to students who demonstrate need. Some places offer discounts while others provide complete scholarships.
When researching summer study abroad scholarships, it is important to apply well in advance of the start date. Scholarship decisions are made several months before summer. Consulting with advisors at your home university for guidance can be very helpful.
Learn Arabic in Egypt with Accommodation
Finding the right accommodation is key to having a meaningful linguistic and cultural experience in Egypt. Most Arabic institutes assist students with booking suitable housing for the program duration. Here are some accommodation options for summer Arabic students in Egypt:
Homestays – Living with an Egyptian family provides total immersion and opportunities to practice Arabic informally. Most homestays arrange a private room and provide two meals per day.
Student apartments – Some programs facilitate shared apartments for summer students. This allows you to live independently or with other students.
University dorms – Arabic institutes affiliated with universities may offer dorm housing on campus. This accommodation is basic but convenient.
Private Arabic schools – Many Arabic schools provide accommodation in their own facilities. Students stay in the same building or a nearby facility.
Hotels – For shorter summer courses of 2-4 weeks, booking hotel accommodations may make sense. This offers more independence.
Be sure to communicate any specific requirements (e.g. family environment, no pork or alcohol, etc.) to ensure appropriate accommodation selection. Having your housing arranged ahead of time enables you to focus fully on your Arabic studies.
Studying Islam in Egypt
In addition to Arabic programs, many Islamic institutes in Egypt offer intensive summer courses focused on studying Islam. These courses provide students with deep knowledge of the Quran, Hadith, Fiqh, and Islamic history. They are a great way to gain a well-rounded understanding of the Islamic faith within a short time frame.
Here are some of the key benefits of studying Islam in Egypt during the summer:
Study with reputable scholars – Egypt has a rich legacy of Islamic scholarship. Summer students can learn from highly knowledgeable teachers.
Gain spiritual knowledge through immersion in a Muslim society. The experience facilitates personal growth and understanding.
Make connections for future studies – Summer course instructors can become valuable mentors for advanced studies at graduate levels.
Earn certifications for future endeavors in Islamic education careers or religious leadership roles in communities.
Visit important Islamic sites – Egypt hosts some of the most significant mosques, libraries, and landmarks in Islamic history. Students can often arrange site visits.
From medieval mosques to storied universities like Al-Azhar, Egypt is the ideal place to quench your thirst for Islamic knowledge. The right summer program provides a solid foundation to build upon.
Best Quran School in Egypt, Qiratul Quran Institute Egypt
For those looking to achieve mastery of Quran recitation, one school stands above the rest in Egypt – Qiratul Quran Institute. Located in Cairo, this specialized Quran school offers intensive summer courses focused on perfecting Quran recitation using canonical methods.
Here are some key facts about Qiratul Quran Institute:
60+ years of experience specializing in Quranic instruction. They have honed an effective curriculum over decades.
Instructors are judges of international Quran recitation competitions. Students learn proper tajweed from the foremost experts.
The intensive tajweed course condenses 1 year into 6 weeks over the summer. About 80 hours are spent just practicing the rules of tajweed.
Facilities purpose-built for Quranic instruction including soundproof classrooms designed for recitation practice.
Students range in age from children to adults. Programs are tailored to each student's needs.
Female students have access to dedicated classes and facilities. Highly qualified female instructors are available.

Students who complete summer courses successfully can register for the institute's advanced programs during the year.
For anyone seeking to unlock their potential and achieve the highest levels of Quran recitation, Qiratul Quran Institute is the best choice for immersive summer study in Egypt. The disciplined but nurturing approach brings out each student's abilities. With a personalized curriculum and expert instructors, students make more progress in weeks here than in years elsewhere.
The Premier Quran School For study Islam in Egypt
History and Mission
The Qiratul Quran Institute was founded in Cairo Egypt with the mission of preserving and propagating proper Quranic recitation according to the canonical methods. For over many years, the institute has specialized in teaching the rules of tajweed and correct makharij to students from Egypt and across the world.
Facilities
The institute's facilities in Giza are purpose-built to facilitate the immersive study of Quranic recitation. Key features include:
Soundproof Classrooms
The classrooms are specially designed to allow students to practice reciting out loud without disturbing others. This is vital for learning proper tajweed.
Recording Studios
Students can record their recitation and replay it to identify areas of improvement. The studios are equipped with high-quality audio gear.
Student Dormitories
Out-of-town students can reside right on campus in the dormitories. This allows for total immersion in Quranic studies.
Segregated Spaces
Men and women have dedicated, segregated spaces for classes and dorms, respecting cultural norms.
Faculty
The institute's instructors and professors are considered the most elite in the field of Quranic recitation. Many are judges of international Quran competitions who undergo specialized training at Qiratul Quran.
Our Programs
Intensive Tajweed Summer Course
The 6-week tajweed program over the summer condenses 1 year into about 240 hours of intensive instruction. Students have reported gaining multiple levels of proficiency in tajweed after completing this course.
Multi-Year Advanced Programs
After the summer course, students can enroll in the institute's advanced multi-year programs to achieve mastery and earn ijazah certification in recitation.
Custom Programs
Short-term programs of 2-4 weeks are also offered for students who want to refine particular skills like makharij or specific rules of tajweed.
Qiratul Quran Institute remains dedicated to upholding the highest standards of Quranic recitation and passing this knowledge to dedicated students from Egypt and around the world.
Summer Arabic Course at Qiratul Quran Institute
In addition to its renowned Quran recitation programs, Qiratul Quran Institute also offers an intensive Summer Arabic course for international students seeking to quickly improve their Arabic proficiency.
Course Overview
6-week intensive Arabic program during summer

Small class sizes of 5-8 students

Beginner to Advanced levels offered

Focus on Modern Standard Arabic

Immersion environment with all classes taught in Arabic

Local Egyptian instructors with experience teaching non-native speakers
Curriculum
The curriculum covers all aspects of the language including:
Reading, writing, grammar, and vocabulary

Listening comprehension and pronunciation

Conversational and spoken Arabic

Media Arabic through television, music, and online content

Cultural classes in Egyptian society and norms
Unique Features
Integration of Quranic Arabic vocabulary and grammar

Opportunity to interact with advanced students of Quran recitation

Access to renowned scholars for Islamic knowledge classes

Excursions to Islamic historical sites relevant to coursework
The Qiratul Quran Summer Arabic program allows students to make rapid progress in Arabic while also enriching their knowledge of the Quran and Islam. The immersive environment and integrated curriculum accelerate language learning.
Summer Quran Courses at Qiratul Quran Institute
Qiratul Quran Institute offers specialized short courses focused on Quran recitation during the summer term. These targeted programs allow students to refine particular skills in a short time period. These are Summer Quran Courses in Egypt that we offered:
Tajweed Perfection Course (6 weeks)
For students with a foundation in Quranic recitation seeking to reach perfection in Tajweed

Covers the entire science of tajweed including rules, articulation, and common mistakes

Intensive focus on practice and repetition to train the mouth and tongue

Around 80 hours were spent just practicing proper makharij and tajweed
Quran Memorization Course (6 weeks)
Designed to memorize a substantial portion of the Quran over the summer

Memorization techniques and methods tailored to each student's abilities

Individual and group review sessions to improve retention

Students graduate with a strong foundation to complete Hifz independently
Ijazah Preparation Course (4 weeks)
For advanced students preparing for ijazah certification in recitation

Intensive practice and coaching on exam surahs from various qira'at

Guidance on proper etiquette, tone, and conduct for the ijazah exam

Simulation of exam conditions for optimal performance
The focused approach of these Summer Quran Courses in Egypt helps students attain higher levels of proficiency in a condensed time period. Qiratul Quran's specialized faculty and proven curriculum enable transformative results.
Qiratul Quran Branded Courses
Related Courses
Our Best Faculty
Contact Our Whatsapp Click the button triggered below and one of our Team members will reply to you within 24 hours.