Qiratul Quran Online Institute has emerged as a leading online platform for Quranic education. In the digital age, the institute has harnessed technology to provide students with an unparalleled learning experience. One crucial aspect that sets the institute apart is the valuable feedback it receives from students. In this article, Qiratul Quran explores the significance of student reviews in the context of Qiratul Quran Online Institute and highlights the positive impact it has on learners.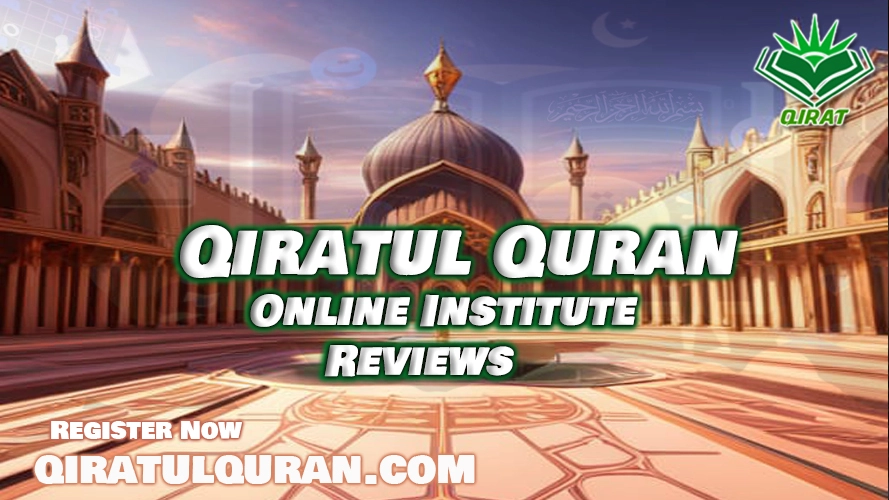 Understanding Qiratul Quran Online Institute:
Qiratul Quran Online Institute is committed to spreading knowledge and understanding of the Quran worldwide. With a mission to provide quality Quranic education to all, Our institute offers a comprehensive curriculum that covers various aspects of Quran recitation, Tajweed, and memorization. Through its user-friendly platform, students gain access to experienced teachers, interactive lessons, and a supportive learning community.
The Impact of Qiratul Quran Online Institute on Students:
Students who have enrolled in courses at Qiratul Quran Online Institute have reported transformative learning experiences. Beyond mastering the art of Quran recitation, they have witnessed personal growth, increased self-confidence, and a strengthened connection with their faith. These positive outcomes are a testament to the institute's dedication to nurturing well-rounded individuals.
Qiratul Quran Online Institute Reviews and Testimonials:
Our institute values the feedback provided by our students and takes pride in the authenticity of the reviews we collect. Many students have shared heartwarming testimonials, expressing their gratitude for our institute's contribution to their spiritual journey. These reviews highlight our institute's commitment to creating a supportive and motivating environment for learning.
Benefits of Online Quran Education:
Online Quran education offers numerous advantages over traditional methods. Students can learn at their own pace, which is particularly beneficial for those with busy schedules or geographical constraints. Moreover, Qiratul Quran Online Institute ensures access to highly qualified Arab and Non Arab teachers, making Quranic education widely accessible to learners worldwide.
How Qiratul Quran Online Institute Ensures Quality:
Our institute is dedicated to maintaining the highest standards of education. It employs state-of-the-art tools and interactive platforms to enhance the learning experience. Additionally, Qiratul Quran Online Institute invests in continuous teacher training, ensuring that educators remain updated with the latest teaching methodologies.
Comparing Qiratul Quran Online Institute with Traditional Learning:
While some individuals may be skeptical about online education, Qiratul Quran Online Institute has effectively debunked misconceptions. The flexibility and convenience of online learning have made it a preferred choice for many students. Moreover, the institute's commitment to quality ensures that students receive a comprehensive education comparable to traditional classroom settings.
Success Stories from Qiratul Quran Online Institute Alumni:
The achievements of past students stand as a testament to our institute's effectiveness. Many alumni of Qiratul Quran Online Institute have gone on to become skilled Quran reciters, teachers, and role models in their communities. Their success stories serve as inspiration for current students to pursue their Quranic education diligently.
The Role of Reviews in Choosing the Right Quran Online Institute:
Choosing the right online Quran institute is crucial for a fulfilling learning experience. Reviews and testimonials provide valuable insights into an institute's strengths and weaknesses. Prospective students can make well-informed decisions based on the experiences shared by others.
Tips for Writing Helpful Reviews:
Writing constructive reviews not only benefits the institute but also helps potential students. By providing detailed feedback on their learning journey, students can assist others in choosing the best course for their needs. Honest reviews contribute to a transparent and supportive learning community.
Addressing Common Concerns About Online Quran Learning:
As with any form of online education, certain challenges may arise. Qiratul Quran Online Institute addresses these concerns head-on and provides proactive support to students. Connectivity issues, maintaining discipline, and staying engaged during virtual sessions are addressed through various strategies.
Conclusion:
Qiratul Quran Online Institute has earned its reputation as a leading platform for Quranic education. The positive impact on students, coupled with their heartfelt reviews, attests to the institute's commitment to excellence. Aspiring learners looking to deepen their connection with the Quran will find a welcoming and enriching environment at Qiratul Quran Online Institute.
FAQs:
Are the courses at Qiratul Quran Online Institute suitable for beginners?
Yes, the institute caters to learners of all levels, including beginners.
Is the learning platform user-friendly for all age groups?
Absolutely! The platform is designed to be intuitive and accessible to learners of all ages.
Are the teachers qualified and experienced?
Yes, all instructors at Qiratul Quran Online Institute are highly qualified and experienced in Quranic education.
Can students interact with each other during online classes?
Yes, the institute fosters a collaborative learning environment, enabling students to interact and learn from each other.
Is financial aid available for those who cannot afford the courses?
Qiratul Quran Online Institute offers scholarships and financial assistance to eligible students in need.
Qiratul Quran Branded Courses
Related Courses
Our Best Faculty
Book Your Class Now for your bright future.