The Quran is the holy book of Islam and learning to properly recite and understand it is an important part of the faith. For Muslims living in the UK, online Quran classes in the Qiratul Quran provide a convenient way to study the Quran and receive instruction from qualified teachers. Here is an overview of some of the best online Quran classes available in the UK and their Fees. Firstly we will discuss QQI: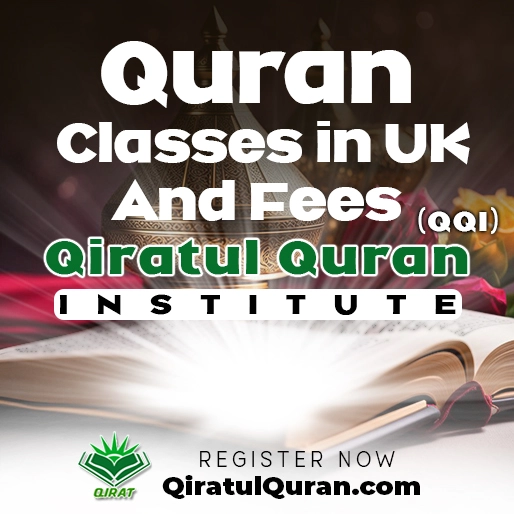 Qiratul Quran Institute (QQI)
One of the most well-known institutes for online Quran education in the UK is the Qiratul Quran Institute (QQI). This institute was founded in 2016 with the goal of making Quran learning accessible to Muslims around the world through online classes.
Some key benefits of QQI's online Quran classes include:
Highly Qualified Teachers
The teachers at QQI are highly qualified in Quran recitation, Maqamat Quran, and tajweed rules. Many are certified by renowned Islamic universities and have years of experience teaching students of all ages and backgrounds.
Note: People are asking about which Qaida we will follow for basic tajweed rules so, we have Qiratul Quran Noorani Qaida in which all the tajweed rules we have discussed in a very easy method that would be easy to understand for every age level.
Personalized Instruction
QQI offers one-on-one Quran lessons where students get personalized attention and a curriculum tailored to their individual needs and goals. Teachers carefully assess each student and provide customized feedback.
Flexible Timings
Students can schedule lessons at times convenient for them, even booking multiple lessons per week. QQI accommodates varying time zones as well. To Know about kid's Quran classes reach out to this article: Online Quran classes for kids.
Note: Flexible timing doesn't mean you will go against our community guideline policy if any student goes against our policy so, the classes will be terminated from Qiratul Quran.
Live Interactive Classes
Lessons take place over live video chat so students can directly interact with teachers in real time. This allows for an engaging and effective learning experience.
Affordable Rates
Considering the high qualifications of the teachers, QQI offers competitive and affordable rates for online Quran classes. They offer packages for different frequencies of classes that suit different budgets.
Worldwide Availability
Muslims in the UK and beyond can benefit from QQI's online Quran lessons. Students from the UK, North America, Australia, and worldwide have studied with their teachers.
In addition to one-on-one Quran lessons, QQI also offers customized packages for Islamic schools, weekend schools, and homeschooled students. Their online model makes Quran education accessible to students everywhere.
Online Quran Classes UK Fees
The cost of online Quran classes can vary depending on the institute, teacher qualifications, lesson duration, frequency, and other factors. Here are some general estimates for online Quran classes UK fees:
One-on-one classes: £10 – £20 per hour

Package deals:




2 classes/week for 4 weeks: £150 – £200

8 classes/month for 3 months: £240 – £400

Classes for groups/schools: Discounted rates of £5 – £15 per student per hour
Many reputable online Quran institutes in the UK offer first-trial lessons for free or at a low cost so students can assess the quality before committing to a package.
When comparing fees for different institutes, be sure to factor in the experience and qualifications of teachers as well. More experienced teachers with higher qualifications often charge higher rates. But this helps ensure you receive high-quality instruction.
How to Choose the Best Online Quran Teacher in UK
Here are some tips for Muslim families and students in the UK looking to find the best online Quran teacher UK:
Check credentials & certifications: Verify teachers have certifications from reputable Islamic universities and institutions. This ensures they are properly qualified.
Evaluate experience: More experienced teachers will be more skilled in conveying concepts and correcting recitation errors. Look for 5+ years of teaching experience.
Consider specialties: Some teachers specialize in certain areas like memorization, tajweed, or recitation of different Qira'at (styles of recitation). Choose one aligned with your goals.
Read reviews: Check reviews and testimonials from past students regarding the quality of instruction and overall experience. Satisfied students indicate a good teacher.
Have a trial lesson: Book a trial lesson to directly evaluate the teaching style and personalize a prospective teacher before committing long-term.
Compare rates: While fees should not be the only factor, compare rates between teachers with similar qualifications to find good value. Avoid unreasonably high or low fees.
Taking the time to carefully select the right online Quran teacher for your needs will help ensure you or your child receives high-quality Islamic education from the comfort of home.
Note: To know about Quran classes for adults reach out to this article: Online Quran classes for adults UK.
Conclusion
Online Quran classes allow Muslims in the UK to continue studying the Quran and proper recitation techniques with qualified teachers around the world. Qiratul Quran Institute is a leading online Quran education provider that makes private and customized lessons accessible through live video chat. With experienced, certified teachers and reasonable rates, QQI offers a great option for students looking to enroll in distance Quran classes in the UK and beyond.
Qiratul Quran Branded Courses
Related Courses
Our Best Faculty