Quran Classes Online: The Quran is the holy book of Islam and is considered to contain the direct words of God as revealed to the Prophet Muhammad. For Muslims, reciting, memorizing, and studying the Quran is an important part of worship and spiritual growth. In Qiratul Quran, learning the Quran online has become an accessible and convenient option for many.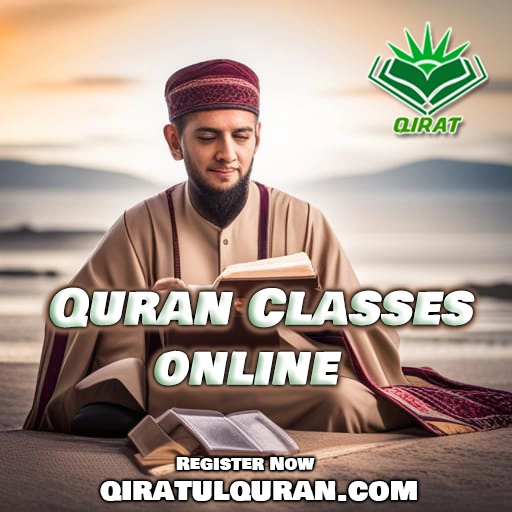 Quran Studies Online
Online Quran classes allow students to study the Quran and learn proper recitation (tajweed) from the comfort of home. Classes are conducted live over video chat so students can directly interact with qualified teachers. Some of the main benefits of online Quran classes include:
Flexibility: Students can take classes at times that fit their schedule without traveling to a physical location. Classes are available 24/7.
Customized Curriculum: Teachers can develop a personalized curriculum focused on each student's specific goals and level of Quran knowledge.
Access to Qualified Teachers: Students are connected with experienced Quran teachers who provide one-on-one instruction and feedback. Many hold advanced degrees from accredited Islamic universities.
Interactive Learning: Live classes allow students to ask questions in real-time and receive instant feedback on their recitation. This interactive format improves engagement and information retention.
Affordability: Online classes are priced competitively and avoid commuting costs associated with in-person instruction at mosques or Islamic centers.
Global Access: Students anywhere in the world can take classes as long as they have an internet connection. This makes Quran education accessible for those in remote areas.
For those looking to deepen their understanding of the Quran, online studies provide a rewarding and convenient solution. Students can progress at their own pace with customized lesson plans.
In addition to standard Quran classes, there are online learning options tailored specifically for adult students. These classes go beyond just memorization and recitation of verses and focus more on understanding the deeper meanings and practical applications of Quran teachings.
For working professionals seeking spiritual enrichment, adult-focused Quran classes can be greatly rewarding. The life skills gained also help in fulfilling family and community obligations.
Parents today are seeking ways to instill Islamic values and Quranic literacy in children from an early age. Online Quran classes cater specially to young students providing engaging and age-appropriate instruction. This inspires a love for the Quran from a young age.
Learn Quran Online From Home with QiratulQuran.com
QiratulQuran.com is an established institute based in Manchester, UK that conducts online Quran classes over Skype for kids and adults globally. Students can enroll in courses on Quran recitation with tajweed, memorization, and Islamic studies. Their teachers are well-trained and passionate about nurturing students' spiritual growth. Both one-on-one and group class options are available with customizable schedules.
Some key benefits of learning from QiratulQuran.com include:
Highly Qualified Teachers: Their instructors include Huffaz and Islamic scholars educated at renowned institutions like Al-Azhar University.
Customized Curriculum: Students get tailored lessons designed for their exact objectives, level, pace, and schedule.
All Ages Welcome: They offer specialized courses for children, teenagers, adults, and even non-Muslims interested in the Quran.
Interactive Learning: Their online classroom features diverse learning tools like a digital Quran, text highlighter, screen share, and discussion chatbox.
Feedback and Reports: Students get regular progress reports and tutors provide feedback for improvement. Monthly reports are also sent to parents.
Affordable Pricing: They offer reasonable rates and discounts to make Quran education accessible to all. Scholarships are also available for eligible students in need.
With the convenience of modern technology, learning the Quran today no longer requires physical proximity to Islamic schools. QiratulQuran.com makes it easy to fulfill spiritual needs and develop a meaningful connection with the Quran through structured online classes conducted by qualified teachers.
QiratulQuran.com's Unique Online Quran Classes
Customized Tajweed Training
Comprehensive Tajweed Curriculum
Covers articulation points, rules of noon saakinah, medd letters, ghunnah, etc.
Emphasis on Practical Application
Teachers identify each student's tajweed weaknesses and help correct them through repetition
Audio Aids Used
Students learn proper tajweed by listening to the teacher's recitation carefully
Engaging Teaching Methods for Kids
Physical Movements Incorporated
Actions like clapping, and making sounds when reciting add interactivity
Visual Aids Used
Flashcards, posters, and craft activities utilized to aid in learning
Audio-Visual Content
Cartoons, nasheeds, and stories used to teach Quranic messages
Detailed Progress Monitoring
Customized Memorization Plans
Verses are divided into small portions based on the student's pace
Comprehensive Monthly Reports
Covers new verses learned, revised, perfected, errors fixed, etc.
Regular Assessments
Tests held to gauge memorization, tajweed, and comprehension
Customized Curriculum For Kids and Adults
Tailored Learning Plans
Each student gets a personalized curriculum and lessons based on their goals, abilities, and pace of learning.
Flexible Scheduling
Class timings are adjusted to accommodate each student's availability and time zone.
Individualized Attention
One-on-one interactive classes allow focused learning and support.
Engaging Teaching Methods
Storytelling and Dialogues
Teachers narrate Islamic stories and engage in discussions to explain verses.
Quizzes and Competitions
Fun activities like online quizzes and Quran competitions motivate learning.
Real-Life Examples
Quranic teachings are related to real-world matters that students face.
Supportive Learning Environment
Affirmations and Encouragement
Teachers positively reinforce memorization and tajweed skills.
Identifying Weak Areas
Diagnostic assessments identify problematic areas so they can be improved.
Guidance from Mentors
Teachers provide moral and spiritual guidance to students like mentors.
Key Features and Success Factors of QiratulQuran.com's Online Quran Classes
Highly Qualified Instructors
Rigorous Teacher Training
Teachers undergo a standardized certification program on Quran instruction methodology.
Subject Matter Experts
Instructors have deep expertise in recitation, tajweed, memorization, and interpretation.
Native Arabic Speakers
Many teachers are native Arabic speakers ensuring proper instruction in the language.
Proven Teaching Methodology
Personalized Lesson Plans
Each student gets a tailored curriculum designed for their level and goals.
Multi-Sensory Techniques
Auditory, visual, and kinetic methods ensure well-rounded instruction.
Continuous Revision
Regularly revising old verses and passages aids in long-term memorization.
Advanced Virtual Classroom
Interactive Tools
Digital whiteboard, text highlighter, and screen sharing enable engaging online sessions.
Class Recordings Provided
Students can replay class recordings for revision and better retention.
Seamless Connectivity
Lessons are conducted over a fast, reliable, and secure network connection.
Ongoing Progress Monitoring
Regular Assessments
Quizzes, tests, and recitations evaluate students' grasp of verses and tajweed.
Detailed Reports
In-depth monthly progress reports are provided with areas for improvement.
Feedback from Teachers
One-on-one guidance helps rectify weak areas in recitation or comprehension.
Summary About Quran Classes Online
In conclusion, QiratulQuran.com has emerged as a leading institute for online Quran education by leveraging cutting-edge technology and proven teaching methods to make classes accessible globally. Their highly qualified instructors, personalized curriculum, engaging classroom tools and progress monitoring help students of all levels and backgrounds excel in Quran recitation, memorization, and comprehension. By delivering customized one-on-one lessons in the intimacy of homes, they have successfully created a supportive and flexible learning environment for unlocking the wisdom of the Holy Quran. Their comprehensive online platform is setting a new standard for remote Islamic education worldwide.
Qiratul Quran Branded Courses
Related Courses
Our Best Faculty