You can find many Islamic institutes in London, but Qiratul Quran is the best Islamic Institute in London where many kids and adults are taking online Quran classes. So if you are looking for the best Islamic school in London you are in the right place. In this article, Qiratul Quran will guide you about our Quran courses and Islamic education like the Quran Memorization and Tafseer course. Moreover, the Qirat course (Maqamat), Tajweed course Noorani Qaida and much more. So stay with us to know more about us and our Best and easy course materials.
Before discussing our Institute let us talk about the benefits to take Classes at Qiratul Quran Islamic Institute in London.
Benefits of taking classes at Qiratul Quran Islamic Institute in London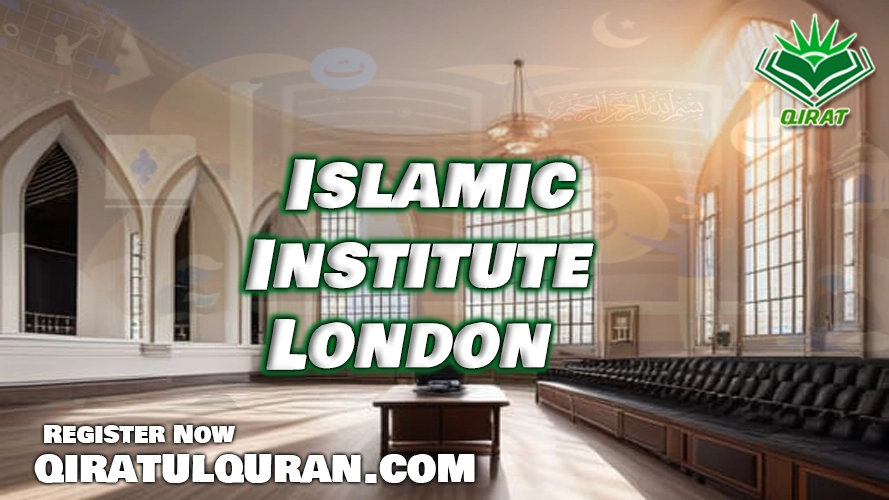 Qualified Teachers
In our institute, there are many Qualified Islamic teachers who are Arab and Non Arab. So, both faculties we have that we are providing to our students according to their will.
Easy Quranic Studies
At Qiratul Quran Institute, students follow a curriculum that is easy for the student's approach to learn the Quran. This includes tajweed (rules of Quranic recitation), memorization of selected surahs, understanding the meanings of verses, and knowing the real context of Islamic teachings.
Emphasis on Tajweed
Correct recitation of the Quran is a part that will make its originality and beauty. Our institute will make sure that every student in Qiratul Quran Institute takes proper attention to pronunciation and articulation of Arabic letters, enabling them to recite the Quran with proper tajweed. And our Expert faculty will guide you further.
Flexibility in Class Schedules
If you are enrolling in Islamic institute flexibility is an important factor. So, Qiratul Quran Institute offers flexible class timings, allowing students to choose a schedule that suits their daily routines or work engagements.
Community and Networking
By joining QiratulQuran Institute, Students can be a part of the Qiratul Quran community. In this way, Students can share their knowledge of the Quran and Islam with others. This facility will build meaningful Connections with other Students.
Spiritual Growth
Studying the Quran at Qiratul Quran Institute is not just an intellectual Use. it is a means of spiritual growth and connection with Allah. The teachings of the Quran can bring peace, faith, and a deeper concept of life's purpose.
Access to Resources
Our institute provides every student access to our course library and our online course material which will be helpful for them for their daily lessons.
Language Proficiency
For non-native Arabic speakers, who are studying at Qiratul Quran Institute can improve their proficiency in the Arabic language, which is the language of the Quran.
Personalized Attention
With smaller class sizes, instructors at the institute can give more personalized attention to each student, addressing their individual strengths and weaknesses. Therefore, QiratulQuran worked hard to ensure the personalized class system.
Certificates and Accreditation
Upon completion of specific courses or levels, Qiratul Quran Institute will offer certificates, adding value to a student's resume and making chances of further Islamic studies.
Positive Learning Environment
Qiratul Quran Institute creates the best and most supportive learning environment, where students will be more comfortable and motivated to focus on their studies.
These are the Benefits of Learning in Our Online Islamic Institute in London. let us talk about Our Main courses. Our main courses are as follows:
Qiratul Quran Main Courses
1- Quran Memorization Course
Every course is developed for students but the point is every student never has the same ability to get. Therefore, Qiratul Quran already covers these things and designed a Quran memorization course for every level of students. And we always make changes in this course and add something new that would be helpful for every age level.
2- Tajweed Course ( Noorani Qaida Course)
Specialty in Tajweed rules is very important for the student who wants to learn Quran with proper pronunciation. It required the proper knowledge of the Arabic Alphabet and this is possible only if the student starts his journey from Noorani Qaida Course. Therefore, Qiratul Quran suggested to new students start from Noorani Qaida.
3- Qirat Courses (Maqamat Quran)
Normally Maqamat Quran course is considered one of our advanced course and for this course, students must have these abilities to enroll in this course:
Must be good at tajweed rules.

Can able to read Quran very well.

Have a Beautiful Voice.

The age level will be minimum of 8 years old.

Can understand the notes and guts of sound scales and their levels.
If students have these abilities so we will welcome the student to enroll to start your Qirat Journey.
4- Tafseer ul Quran course
In this Tafseer course, students will learn Quran translation with Quranic Arabic meanings. Furthermore, Our teacher will briefly teach you about the cause of the Verse revelation it's called Asbab un Nazool of the Quranic verses. So we designed this course accordingly so that would be helpful for the student to learn Tafseer easily.
Qiratul Quran Well Qualified Faculty
In Online Islamic schools qualified Islamic teachers will play an effective role in the Learning journey of the students. Why? Because if the teacher is not well qualified it can't be possible for students to understand well. At last, the student will not make interested. Therefore, Qiratul Quran hired well-qualified faculty of Arab Shaykhs who are well-qualified and can easily teach different levels of students.
Qiratul Quran Methods of Teaching
This is the policy of the Qiratul Quran that we never compromise on the Quality of education. Therefore, we always maintain our quality of education. The steps that we follow to maintain our quality:
1- Easy and Understandable Teaching style
Our teacher's style of teaching is easy to understand and every level of student can easily understand according to our special course outlines. This is the first step and other Outlines that we follow for teaching:
2- Brief and Easy Introduction to the Lesson
A good teaching style always starts with the introduction of the lesson. Therefore, Our teacher always starts the new lesson with a brief introduction which can help the student to understand their lesson well.
3- Teaching with the help of Examples
Your instructor will teach your lesson with the help of examples in this way students will note down every example and can memorize the lesson with the help of the examples.
4- Teach with the Help of Technology
We use technology why? because this is the main power of our institute. B using technology like Video, Islamic games, Arabic alphabetical videos Memory test games, etc. Why do we use this? because it will help the student to make interest in the lesson and enjoy them with the help of technology. Therefore, our teachers use and prefer that method of teaching.
5- Weekly Test Report
To engage our students more with their weekly lessons we are taking weekly test reports. This will help us to make sure to maintain the quality and check the ability of the student for example: Did the student prepare his past lesson or not? Therefore, we are making sure to take weekly tests from every student just to maintain our Quality education and this report has some marks that will be given by our Professional Shaykhs who are not the teacher of the student or not teaching. In this way, the student must prepare their weekly lessons well to get ready for the test.
6- Feed Back from the Parents
Qiratul Quran ensures that every student guardian keeps up to date about their kid's progress. Therefore, we are asking for weekly feedback about student and teacher progress. In this way if there is any problem so we can resolve that problem. Therefore, Feedback can help us up to date about student and teacher progress.
7- Session Recording
We record every class session and watch every activity of students and teachers. And our quality maintenance department will take action if anything happens wrongly or if anyone from the student or teacher is trying to violate our policy. Therefore, if anyone violates our company policy we will suspend or terminate them permanently and take further action. Therefore, Stay safe and follow our policy and terms and conditions.
8- One on One Sessions
In QiratulQuran we are providing one on one sessions in which student can maintain their privacy and can focus properly on their lessons. Therefore, we never give group sessions because that is against our quality education policy. In group session student cant take proper focus because in group sessions there are so many students. Therefore, one on one session is a suitable and more comfortable zone for Students.
Conclusion
In short, our online Islamic institute in London provides you and your kids with a huge opportunity that can help you and your kids to get quality Quran education from well reputed Online Islamic school based in London, UK. And you can be one of our best students so don't miss that chance to be a part of our two thousand-plus students from the UK & all over the world.
Qiratul Quran Branded Courses
Related Courses
Our Best Faculty
Book Your Class Now for your bright future.