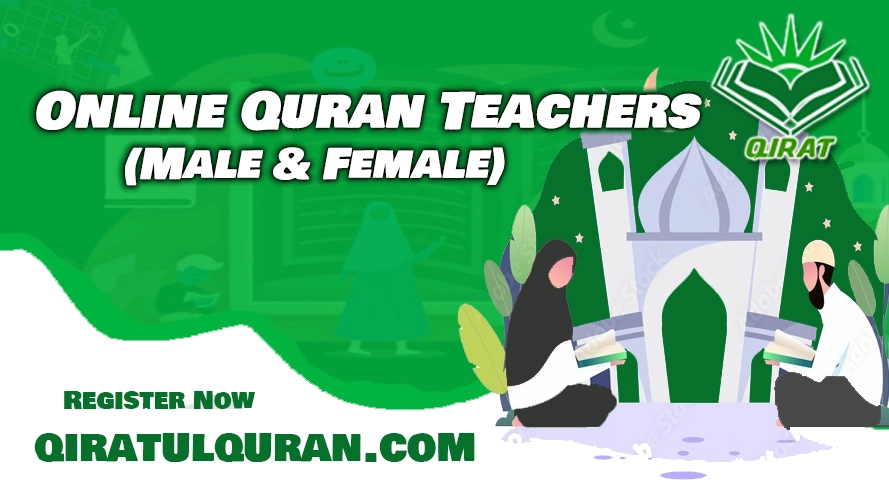 Introduction to Online Quran Teachers
Online Quran teachers in Qiratul Quran are an innovative approach that provides students with the opportunity to learn the Quran from the comfort of their own homes. With the advent of technology, this method of learning has become increasingly popular, offering an easy and convenient way to study the Quran without the need to physically visit a mosque or Islamic center.
Why Learn Quran Online?
The internet has made it possible for people to learn Quran online from the comfort of their own homes. This has many benefits, including:
Convenience: You can take Quranic lessons from anywhere in the world, as long as you have an internet connection.

Flexibility: Online Quran classes are available 24/7, so you can choose the schedule that works best for you.

Personalized attention: With one-on-one online Quran lessons, you can get individual attention from your Quran teacher, which can help you learn faster and better.

Safety: Learning Quran online is a safe option, especially for women and children who may not feel comfortable going to a physical Quranic school.
Benefits of Online Quran Teacher
Online Quran Teacher offers several benefits over traditional methods of learning, including:
Flexibility: Online Quran classes are available at any time, making it easy for students to fit their lessons into their busy schedules.
Customized learning: Online Quran teachers in Qiratul Quran can provide personalized attention to each student and cater to their specific needs and learning styles.
Interactive learning: Online Quran classes are interactive and engaging, helping students stay focused and motivated during their lessons.
Access to quality teachers: Egyptian Quran Teacher Online platforms provide students with access to highly qualified and experienced teachers from all over the world.
Affordable: Online Quran classes are often more affordable than traditional classes, making them an accessible option for students of all backgrounds.
Characteristics of an Effective Online Quran Teacher
An effective online Quran teacher should have a deep understanding of the Quran and the ability to communicate and teach effectively. Empathy and patience with students are also important traits, as is the ability to use technology to enhance learning. A good teacher should be able to adapt their teaching style to meet the needs of individual students and create a positive and supportive learning environment.
The Need for Online Quran Teachers
The guidance of a qualified teacher is essential for understanding the Quran. Teachers can provide context, explanations, and clarifications that enhance students' comprehension and deepen their connection with the text. A knowledgeable teacher can also help students build a strong foundation of religious knowledge, which can positively impact their faith and daily lives.
How to Find the Best Online Quran Teacher?
Now that you know the benefits of learning the Quran online, let's discuss how to find the best Online Quran Teacher.
Research and Read Reviews
The first step is to do your research. Look for online Quranic schools or teachers that offer online Quran classes. Read reviews and testimonials from previous students to get an idea of their experiences with the teacher or school.
Check the Qualifications
It's important to make sure that your online Quran teacher has the necessary qualifications to teach Quran. Look for teachers who have completed Quranic studies and have certification from recognized institutions.
Look for Experience
An experienced Quran teacher can make a big difference in your Quranic studies. Look for teachers who have several years of experience teaching Quran online.
Evaluate the Teaching Method
Every teacher has their own teaching style. Before you sign up for online Quran classes, evaluate the teaching method of your potential teacher. Look for a teacher who uses a teaching method that suits your learning style and goals.
Test the Waters
Many online Quranic schools offer free trial classes or sessions. Take advantage of this and sign up for a trial class to get a feel for the teacher's teaching style and see if you feel comfortable with them.
How to Get the Most Out of Your Online Quran Lessons?
Once you've found the right online Quran teacher, it's important to make the most of your Quranic studies. Here are some tips to help you get the most out of your online Quran lessons:
Be Prepared
Before your Quran class, make sure you have everything you need, such as a Quran, notebook, and pen. This will help you stay focused and engaged during the class.
Set Goals
Set goals for your Quranic studies and communicate them with your teacher. This will help your teacher tailor the lessons to your needs and ensure that you're making progress toward your goals.
Stay Consistent
Consistency is key when it comes to learning Quran online. Make sure you attend your classes regularly and practice what you've learned between classes.
Ask Questions
Don't be afraid to ask your teacher questions. Asking questions can help you better understand the material and ensure that you're on the right track.
Stay Motivated
Learning Quran can be challenging, but it's important to stay motivated. Set aside time for Quranic studies each day and remind yourself of the benefits of learning the Quran.
Conclusion:
Online Quran Teacher in Qiratul Quran is a convenient and effective way to learn the Quran, offering students the opportunity to study from the comfort of their own homes. With the right teacher, students can receive personalized attention and experience a unique and interactive learning experience. When choosing an online Quran teacher, it's important to consider their qualifications, experience, teaching style, availability, and cost. With these factors in mind, you'll be on your way to finding the right teacher for you and achieving your goal of learning the Quran.
Frequently Asked Questions About Online Quran Teachers:
Q: Is online Quran teaching effective?
A: Yes, online Quran teaching can be just as effective as traditional classroom-based learning. The key is to find the right teacher and to make use of the tools and resources available to you.
Q: Do I need any special equipment for online Quran classes?
A: All you need for online Quran classes is a computer or tablet with an internet connection, a microphone, and speakers or headphones. Some teachers may also require a webcam.
Q: How do I choose the right online Quran teacher for me?
A: The right online Quran teacher for you will depend on your individual needs and preferences. Consider factors such as qualifications, teaching style, availability, and communication skills when making your decision.
Q: How much does online Quran teaching cost?
A: The cost of online Quran teaching can vary depending on the teacher and the services offered. Some teachers offer individual classes for a set fee, while others offer packages of classes at a discounted rate in Qiratul Quran.